I only remember having watched Snow White and the Seven Dwarfs once as a child. My mom rented the VHS for me and I was unimpressed by the already poor sound quality of the film that was undoubtedly overplayed. The poor sound quality had to compete with the loud conversation of my house keeper and her friend, who were baby sitting me that evening. None the less, Snow White is the first of the Disney Princess, and I shall have to give the digitally re-mastered DVD a chance some time - there's just something irresistible about Hi-Ho and Someday, my Prince will come.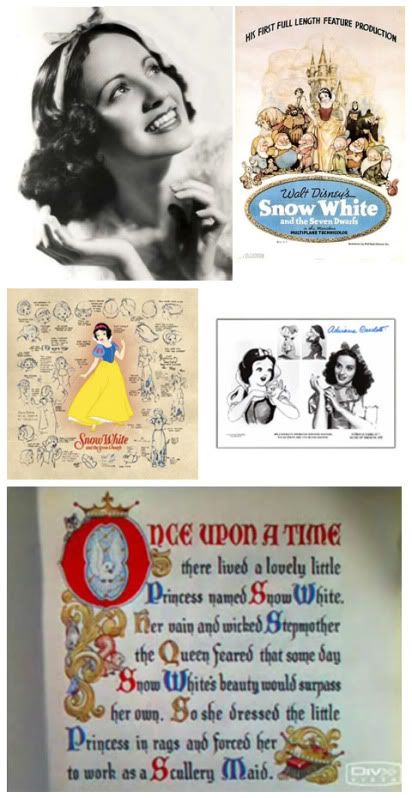 Snow White and the Seven Dwarfs debuted in 1937 as the first full length, full colour cel-animated feature produced by Walt Disney, based on the Brothers Grimm fairy tale
Snow White
. But unlike fairy tails with happy endings, Adriana Caselotti,
who was hired by Walt Disney in 1936 as the voice of his heroine Snow White, was blacklisted by Disney after the film, as he did not want her to appear in any other films following Snow White and the Seven Dwarfs. Jack Benny specifically mentioned that he had asked Walt Disney for permission to use her on his radio show and was told, "I'm sorry, but that voice can't be used anywhere. I don't want to spoil the illusion of Snow White." The only other work she did following her premiere was an uncredited role in The Wizard of Oz, as the voice of Juliet during the Tin-Man's song, "If I Only had a Heart".
Her personality is descirbed as: "...A princess of noble birth who is forced into servitude by her jealous stepmother, the Queen. She is innocent and a bit naive, but she never loses faith that one day her wish for true love will someday come and take her away. She remains cheerful and kind, no matter how poorly her stepmother, the Queen, treats her.

She's a born optimist, who will always see the bottle half full no matter how grim things may seem. A silent dreamer, she loves helping people less fortunate than herself and never judges people. With a kind, gentle and feminine nature, she follows her heart and does what she feels is right even if it can lead her into trouble. For example, when she helps a suspicious, ugly crone by bringing her in to the cottage after Grumpy told her not to let anyone in.

She sees the good in everyone and everything, almost to a fault, but through it all she's a good person with a huge heart and a motherly soul that can charm anyone, even Grumpy.