Heather Mooresk
aka
skinny laminx
shared this via Twitter this morning and it's such a brilliant idea. I love it when creative collectives form to create one common bond. Threadcount includes, among others Heather Moore, Lorenzo Nassimbeni and SHINE SHINE, who's work I've been following since the first ever
Drawing Room
Exhibition all the way back in 2005.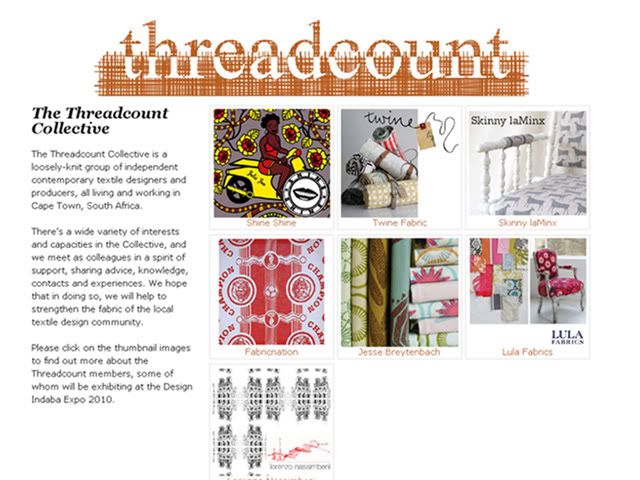 "
The Threadcount Collective
is a loosely-knit group of independent contemporary textile designers and producers, all living and working in Cape Town, South Africa.
There's a wide variety of interests and capacities in the Collective, and we meet as colleagues in a spirit of support, sharing advice, knowledge, contacts and experiences. We hope that in doing so, we will help to strengthen the fabric of the local textile design community.
Please click on the thumbnail images to find out more about the Threadcount members, some of whom will be exhibiting at the
Design Indaba Expo 2010.
"
{ Quaoted text and screen grab from
The Threadcount Collective
}