Hey Monday! We've had 8 days of remixing and I'm sure we can all agree, we'll never look at our wardrobes in the same way. There's been such a flood of inspiration from all the blogs I've visited and everyone has been so wonderful with their comments. I feel like I've met so many of you in person by reading your posts each day ♥
A big thank you to
Katy, from ModlyChic
for featuring me on her
Favourite New Blogs
list! I feel so honoured!
It's been raining buckets and I LOVE IT! It hardly rains here, so when we
do
get rain, we dance in it! Namibians have even been known to drive to rivers to watch them run! What do you expect from an arid country?! ;-)
The other reason why I love the rain SO MUCH is that I get to wear my brand new
Henri Lloyd
jacket that I won from
Glossary Girl's blog
. Whoop whoop.
Read about it here.
I know strictly speaking it isn't part of the 30 items but Kendi did say the rules don't include jackets and coats for super cold weather - and in my case rain. So my new jacket has had a proper introduction to what its meant for - getting wet :)
1. Black fitted T, worn underneath, Identity
2. Knitted top, RT @Mr Price
3. Denim jeggings, Free 2BU @Edgars
4. Mock suede green pumps, Oasis @Foschini
Accessories: Necklace, Sas Diva. Supersizeing, Foschini. Earings, gift.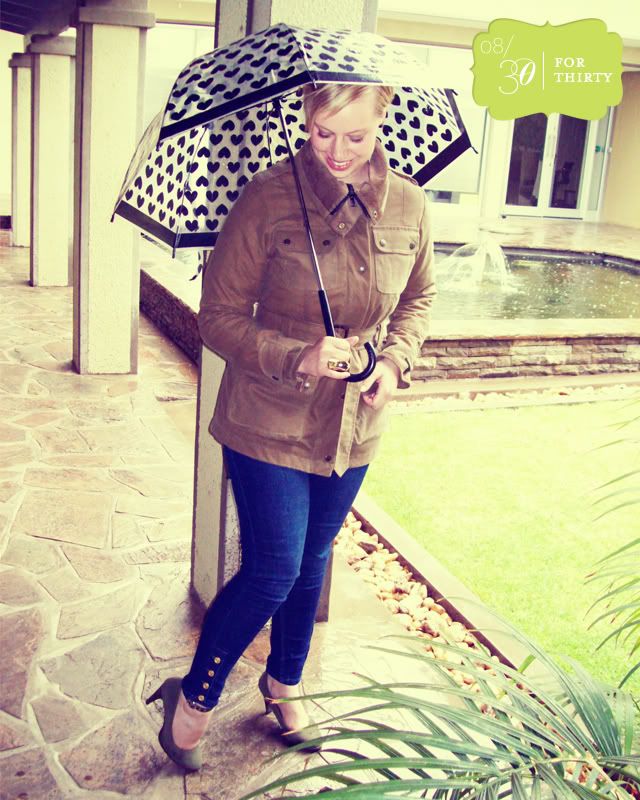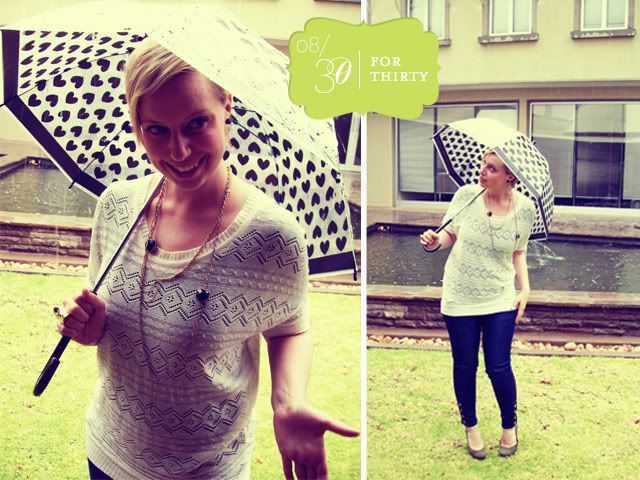 This jacket has been treated with oil and wax, based on an old English sailors' method for waterproofing clothing. Brilliant!
Snuggly warm lining - great attention to detail!
"I'm singing in the rain, just signing in the rain... what a glorious feeling I'm happy again..." Hope your Monday's been nifty so far.